Meet Our Team of Coaches
All BB Soccer coaches have a range of FA coaching qualifications are CRC/DBS checked and have first Aid qualifications along wit Third Party vetting forms and public liability insurance. Along with this they have all been trained in house by Ben Boyce our Head coach and founder of BB Soccer.
Coach Ben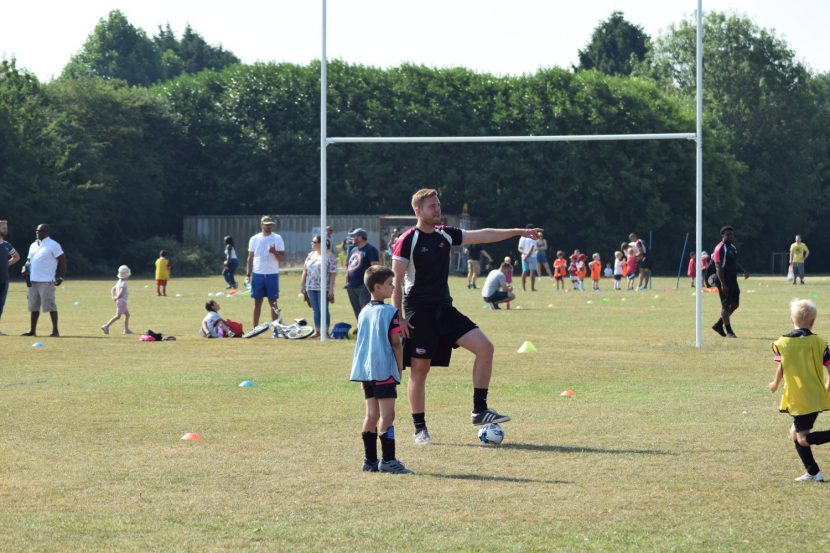 Head Coach Ben / Chairman BB Soccer Football Club
Ben has been a professional coach for 12 years now and began his coaching career at Brighton & Hove Academy working with their elite children aged between 8 – 12 Years. He also spent time working with the Crystal Palace academy alongside working for Pro Direct Soccer, Brazilian Soccer, RAW Skills and Little Kickers. Ben is a UEFA Licenced coach and was one of the youngest coaches in the county to receive this award at the time.
Ben set up BB Soccer in 2012 which started at his old primary school and has now grown to teach over 100 classes a week, working with 12 Schools, 10 nurseries alongside running its prestigious Football Club, holiday camps and Futsal classes.
Ben has a passion for teaching Futsal, Skills and passing expressive football to children and believes every child should spend at least 30 minutes a session with a ball at their feet exploring different ways to move with the ball and take players on. Ben's strengths are motivating and squeezing 100% effort out of every child in a session and always re - enforces a fun and positive environment.
Ben also works closely alongside his young team of coaches ensuring they teach they "BB Way" and he only selects coaches that have the same pride, positive attitude and passion for teaching football.
"I believe every child has the right to play football in a stress-free environment in which they can learn and are encourage to try skills and tricks on the ball. At BB Soccer we are all about football development and not results. Ive never been interested in results but more about do our players know how to play football on the floor and have an array of skills. Every player in our teams after 6 months of being taught by us will have complete mastery of the ball"
Ben supports Charlton FC and his favourite Charlton player was Scott Parker. He supports them after being taken to the Valley as a child by his grandad aged 8. "Were never going to win anything major but that's what i love about being a Charlton Fan, just got to enjoy the small highs when we get them "
Coach Harry
Head of Key Stage 1 Footballing Development
Harry has been teaching at BB Soccer since its establishment in 2012. He has an array of coaching qualifications that also include specialised Futsal qualifications. Harry is the longest standing member of staff at BB Soccer and preaches the ethos of the club with real passion and dedication.
Harry has a loves the tika taka style of football and has introduced a lovely passing mentality to all of our younger players. He has a very warm and encouraging style of teaching which helps children to not be afraid in asking for help and advice. Harry is a real coaching success at BB Soccer and has helped Ben to expand on new coaching ideas and philosophies.
Harry loves being part of the BB Soccer team and is very proud to have over seen the improvement of many children from a very young age.
"Children need to be able to express themselves and be able to make mistakes without any pressure. At BB Soccer we encourage the children to play with a creative mind and to take chances. Every child is different and their football should reflect their personality."
Harry supports Crystal Palace and his favourite player was Darren Ambrose especially after his goal away to Man United at Old Trafford. Harry's family are all Crystal Palace supporters, so Harry didn't have much chance of supporting a good team
Coach Joe
Head of After schools programmes and Reigate Football Club
Joe has been teaching at BB Soccer since 2016 and has a range of FA qualifications. He works a lot with local schools delivering after school clubs and PE classes. Joe is also the head coach for Reigate Football club which he teaches through BB Soccer, he oversees all training from U7's – U14's for the whole club and has a real passion for introducing children to new skills and shooting practices.
Joe was taught to teach the BB way by head coach Ben and really embodies our coaching philosophies and is very warm encouraging and approachable, so don't be shy and ask Joe for any help and advice your child may need.
"I love creating new sessions to keep the kids engaged and excited but using the core fundamental skills that make BB Soccer unique. I have a real passion for watching kids develop and I love working with Reigate FC it's a great family club with a very similar ethos to our own"
Joe supports Chelsea FC and his favourite player is Didier Drogba. "he was so hard working and impossible to get the ball off, he had great skill, strength and was very unselfish in bringing other players into the game. He was the full round package, very similar to myself as a player" ….. Yeah alright Joe
Coach Sam
Goalkeeper Coach and Head of Pre School development
Sam has been teaching at BB Soccer since 2017 and has an array of Goalkeeper qualifications. He regularly plays in Goal for several sides and is known as the "CAT" in the local area. Sam has a real passion for introducing children into the idea of becoming a Goalkeeper and works closely with all of our BB Soccer sides from U7's – U12's developing the next generation of Goalkeepers.
Sam also teaches pre schools classes and children love his funny and entertaining ways in which he introduces them to football. Sam is a big hit at the nurseries with the children and uses imaginative ways to re design football sessions for the younger years.
"Playing in goal is the hardest position on the pitch and if you make a mistake your are very quickly blamed. I like to help young goalkeepers realise their worth to the team and let them know everyone makes mistakes and not to worry about it. I teach my goalkeepers to be strong in their heads as well and their hands"
Sam supports Manchester City and assures us he's supported them since they were at the lower end of the premiership (Yeah okay Sam we believe you ). Sam's favourite player is David Silva and he loves how he always keeps the ball moving and in his team's possession in tight areas.
Coach George
After School club Coach/ Nursery Coach and Head of Holiday Camps
George is the newest member of BB Soccer and has been working with us since 2018. He has his FA Level one badge and is keen to do some more courses to further his football development. George has worked closely with Bens team of coaching and has rapidly become a very good coach. He has a massive passion for football and really get's into his sessions which the kids love!
George is really good at teaching passing and shooting techniques so if you struggling to finish or make that killer pass talk to George!
"I haven't been teaching long but I love teaching at BB Soccer, its great to be able to think of an idea and put it into practice then to see then children understand it and improve off it is absolutely priceless"
George supports Crystal Palace and has a season ticket his favourite player is Wilfred Zaha. "Zaha has so many skills and different way's to beat a player, he's really exciting to watch"